When:
November 19, 2020 – November 20, 2020
all-day
2020-11-19T00:00:00+11:00
2020-11-21T00:00:00+11:00
Where:
International Conventional Centre Sydney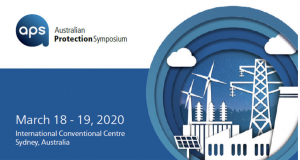 The twelfth Australian Protection Symposium will now take place on the 19th – 20th of November 2020 at the International Convention Centre Sydney, where first-hand experiences from Australia and around the globe will be shared through paper presentations, panel discussions and interactive Q&A sessions encouraging attendees to stay in tune with the latest solutions, innovations, successes and challenges in our industry.
The interactive format of the symposium is complimented by the ever popular 'Power Talks' session, short but very topical presentations on lessons learned from unfortunate events. The APS has been designed as a unique and neutral platform to gather experts in the electrical protection industry in a friendly and dynamic environment to encourage idea exchange and a range of diverse contributions. The APS attracts researchers, industry experts, engineers, practitioners and other professionals involved and interested in the electrical protection industry. This opportunity to come together, discuss ideas face to face and build close cooperation channels for solving future challenges results in a rewarding experience for all contributors and attendees.
For more information visit the APS Event website www.protectionsymposium.com.au