ANNUAL PURCHASING DIRECTORY 2018
Each year, the APT Publications Annual Purchasing Directory (April/May) is a bumper edition, commonly referred to as "The Business Search Engine of the Electricity Supply Industry". In addition to the usual features, adverts and advertorials of our magazines, The Annual Purchasing Directory "BUYER'S GUIDE" showcases 37+ categories of industry products and services. The duration of the Purchasing Directory is 12months, May-May.
We've reinvented the Transmission & Distribution Purchasing Directory to come under the banner of APT Publications and invite our loyal contributors of Transmission & Distribution and Industrial Electrix to roll up your sleeves and be ready to feature the products that correspond to each category.
Prepare your Listings Submissions
Promote your NEW Products
Grab prime exposure for your BEST SELLERS
ANNUAL PURCHASING DIRECTORY PRODUCT & SERVICE CATEGORIES 
Click to View each Category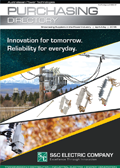 Click here to read the 2018 Annual Purchasing Directory
CONTACT A PURCHASING DIRECTORY ACCOUNT MANAGER:
Transmission & Distribution
email Dianaemail Tyrone
Industrial Electrix
email Mara
Bookings of your advertising in the Annual Purchasing Directory 2019 can be made now: Click here to download our Media Kit